//5 Vegetarian Recipes//
I am definitely not a food blogger (case in point: my pictures, or lack there of) and none of these 'recipes' will be winning any Michelin awards. These are quick and easy meals I can whip up that are healthy and Autumn approved. Also, I've realized I am horrible at taking process pictures while I'm cooking. Juggling a toddler, a meal, a dog at my feet waiting for any morsel of food to drop and my sanity doesn't leave much room for pictures.
I like easy recipes that don't have a million ingredients and don't require a special trip to the store. I need easy recipes. All of these are quick, simple, healthy and yummy dinner recipes and usually make enough for some lunch leftovers.

//Veggie Spaghetti//
I am always trying to cook stuff in the Crock Pot. It just makes life so much
easier. This recipe is perfect for that! I cut up the veggies the night before, throw everything in in the morning, cook it on low and it's perfect by dinnertime.
1 14oz can diced tomatoes
2 small cans tomato sauce
1 can tomato paste
2 cups water
1 tbsp dry mustard (not critical)
I throw in whatever spice combos I have around. About a tsp. of each...parsley, oregano, Italian seasoning, thyme, pepper
Garlic salt (to your liking)
1/2 c chopped onion
1/2 c chopped carrots
1/2 c chopped mushrooms
Whole wheat pasta- Cooked separately in boiling water according to package directions. If you're looking to make this healthier, you could julienne some zucchini and blanch it or serve this with cooked spaghetti squash.
Throw everything (except pasta) into the CrockPot, put it on low for 6 hours, then it switches to warm for the remaining hours until dinner. Serve over the pasta. For Autumn, I serve her's with some fresh cut up fruit, soy milk and sprinkle the spaghetti with nutritional yeast. Everyone loved this recipe! Even Ernest...who had no clue there was zero meat in this dish!
//Potato Soup//
Another CrockPot easy recipe. The quantities are totally dependent on how many servings you want to make. This was enough for the 3 of us.
3 cups potatoes (washed with peal on)
1 can cream of mushroom soup
2 cups vegetable broth
1 can corn
1/2 an onion, chopped
Throw everything in the CrockPot on low for 6 hours. Mine remained on warm for another 3 hours. Once everything is soft, throw it in the blender and give it a good blend until all the big chunks are out and put back on low. I served it with some grated cheese on top, a fish fillet (pork chop for the man) and some fruit for Autumn. You could also add a dollop of sour cream and some scallions.
//Fish, Roasted Veggies and Balsamic Mushrooms//
Autumn turned a huge page this week and started eating fish! One night, I decided I'd try to make her a fish filet and see what she'd do with it. Well, she gobbled almost the whole thing up! I've adjusted some of my recipes for this new development.
Fish fillets (I bought frozen cod fillets from Costco)
Chopped mushrooms
Trimmed green beans
Sweet Potato, chopped
For the roasted veggies, put the oven on 400. Spread the green beans and sweet potatoes evenly and coat with a drizzle of olive oil and sea salt. Let them roast for about 25 minutes or until tender.
Place the mushrooms in a small saucepan with 1/4c of water. Cover and let steam about 10 minutes.
Meanwhile, place the fillets in a warm pan with olive oil. I add a little sea salt as they cook. Depending on the thickness of your fillet, I usually cook it about 3-4 minutes on each side (for a thicker one try 4-7 minutes each side). Once the mushrooms wilt, add some balsamic vinegar.
For Autumn, I give her half a fish fillet, cut up fresh pear, green beans and sweet potatoes.
I made fish for her again, but this time I served it with green beans, pasta and pear
//Pea and Mushroom Orzo//
1/2 box orzo, cooked according to package and drained
1 can cream of mushroom soup
frozen peas
1 cup finely chopped mushrooms
1/2c unsweetened soy milk or almond milk
Saute the mushrooms and frozen peas with a little olive oil, salt and pepper. Add the cream of mushroom and milk to the pan. Add the cooked ozo to the pan. Incorporate the mixture until the orzo is completely covered. Add more salt/pepper to taste. I serve Autumn's sprinkled with some nutritional yeast and with some green beans and fruit. (Sorry no pic)

//Mini Veggie Pot Pies//
My mom made these for Autumn the other day. She put them in a muffin tin, popped them out and put them in individual freezer bags so I could easy pull them out and defrost them for her. It doesn't get much easier than that!
Ready-made pie crust (I'd like to try a healthier version like
this
recipe)
Organic frozen veggie mix, defrosted
1 can cream of mushroom soup
Salt and pepper, to taste
1/2 c. grated cheese
Heat your oven to 350. Mix the defrosted veggies, soup and a splash of soy milk to thin the mixture a bit. Season it to taste. Meanwhile, use a large round cutter to make the bottoms of your pie crusts. Use the same size for the tops of the pies and cut out an equal amount of tops and bottoms. Spray your muffin pan with some non-stick cooking spray. Press the crust into a regular size muffin pan. Bake the bottoms only for about 10 minutes or until they start to turn golden. Fill them just below the top with the veggie mixture. Cover with your pie top, pinch the edges, add a slit on top so they can breath. Bake the pies for 30 minutes or until the crust is a golden brown. If you want to freeze them, let them cool completely. Scoop them out and put them in individual freezer bags. To defrost, I put them in the refrigerator and warm them in the microwave in 30 second increments. Test the centers before you serve them to the babe!
I served them with some soy milk and mandarin oranges. I challenge you to not eat them all yourself! They are that good!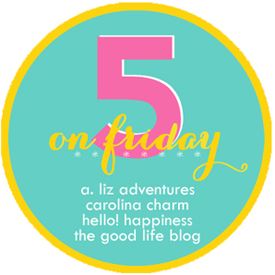 Today I'm linking up with the lovely ladies of
The Good Life
,
Carolina Charm
,
A. Liz Adventures
, and
Hello Happiness
and am sharing 5 Vegetarian Recipes.